Bloch builds and develops private and commercial projects throughout Israel for local and overseas clients.
Shmuel Bloch founded the company with the vision of creating work processes based on personal relationships, exceptional construction and finishing standards, and ongoing partnerships.
Over the past several years, Bloch has participated in a number of complex architectural projects, including the Isrotel Orient Hotel, the prestigious Schneller Jerusalem Estates residential complex, and the Sde Boker Hotel.
Our Philosophy
Why One-on-One
?
Bloch was born out of and formed by the extraordinary architectural experience of Jerusalem.
The daily encounters between the city's architectural diversity and complexity, along with the many projects managed remotely for non-residents and overseas developers, led to our company's philosophy of focusing on meticulous attention to details and on close personal communication.
One-for-One
Bloch meticulously executes every detail, in every room and on every floor, for private homes, residential and commercial complexes, hotels and public buildings.
One-to-One
Bloch is fully committed to the success of its projects. This entails full compliance with agreements and schedules, and accurate implementation of construction plans, all while harnessing the company's knowledge, experience, and technological equipment.
One-on-One
Bloch stays in close communication with its clients throughout projects and after their completion. The Bloch team continues to assist customers for many years after the project has been built, providing relevant information and professional support.
A Glance at How We Work
Close-Up
.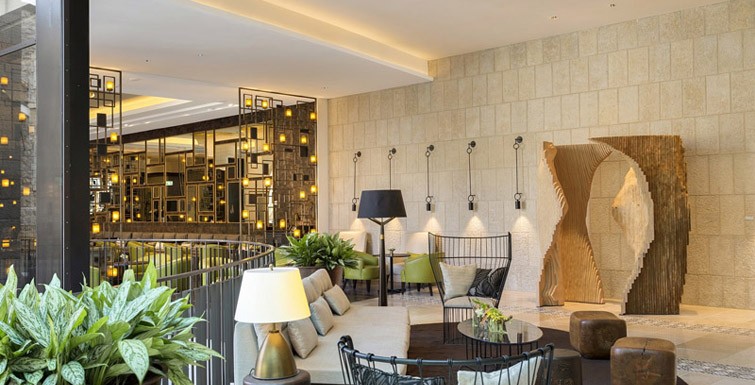 Isrotel Orient Jerusalem
---
The Orient Jerusalem is one of the Isrotel chain's luxury hotels, joining its Beresheet, Cramim and Carmel Forest Resorts.
The Orient, located in the heart of the German Colony, features 243 luxurious rooms and suites, with designs weaving together ancient elements and modern trends. Thirty-nine rooms are housed in conserved and renovated Templar period buildings.
Jerusalem Estate Residential Complex
---
This is a luxury residential project developed by the ISA Group and currently in advanced stages of construction. The spacious complex, located on Malchei Yisrael Street in Jerusalem, includes 13 buildings with 460 apartments.
Triplex on Ben Maimon Street
---
This 300 m2 apartment, spread over three floors, is located in a luxury building on Ben Maimon Street in Jerusalem. The owners live abroad and visit Israel every year. Bloch was hired to manage the expansion of the apartment after the owners were granted an additional 100 m2 of building rights.